Feruary 18, 2021

We are ready to run! We are so excited. We have been working so hard to prepare for these two back-to-back races totaling 200 miles in Minnesota and Michigan.
We began training dogs in August. There have been many, many early mornings and late nights. We think our team is ready. Coming in from a run of over 50 miles last week, the dogs looked strong, happy, and hungry — all good signs.
Yesterday we were busy chopping frozen meat, and organizing and packing lots of gear in preparation for hitting the road. We hope to arrive in Iowa on Thursday evening, then Friday it's on to Duluth, leaving a short drive to Ely, MN, on Saturday. Once we arrive in Ely for the Wolftrack Classic Sled Dog Race, we have meetings, Covid protocols, and vet checks. The race starts Sunday morning, February 21.
My long time helper, Tim Anderson, will be driving the team for the Wolftrack Classic race. Then Monday-Wednesday we'll be staying at a friend's house in St Cloud, MN. On Thursday, we'll be traveling to Calumet, MI, for the second race – the Copper Dog 150 Sled Dog Race. We have vet checks and meetings on Friday, February 26, with the race beginning that night. The race will run Friday and Saturday, Feb 26-27, and finish on Sunday, Feb 28. Kristen Dippold will be driving the team in this race. Kristen is in her third year as one of my dog sled staff.

At almost 66-years-old I decided it may be time for me to invest in these younger mushers. They are both very talented and committed staff. They will have GPS trackers so please follow their progress throughout the races. I will be there coaching all the way.
Please help us reach our goal of $10,000 for the Camp Chief Ouray Sustainability Fund. This fund will help sustain Camp Chief Ouray through this challenging time. Thank you to those who have already given.

God bless!
Chaplain Steve Peterson
P.S. – I'd like to share this dog-sledding video with you.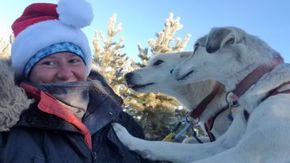 Meet Kristen!
Meet Tim!